It's easy to think you have a handle on social media because you use it in your personal life.
Or maybe you're just "winging it" when it comes to posts for your business. Either way, there are important considerations to take into account when developing and executing a social media strategy for your brand. Below are some of the most common mistakes we see B2B companies make – as well as solutions to overcome the challenges.
1. Using too many hashtags and/or irrelevant hashtags
Some #companies like to #write like this on #socialmedia and it can be pretty #difficult to #read and seem #disingenuous. When it comes to creating content for your brand-specific channels, content is key, and that includes use of hashtags. It is recommended that you use 2-3 appropriate hashtags to:
participate in an existing conversation/trend
attract new users with a trending or popular hashtag
join or create an event hashtag to monitor and engage users
take ownership of a hashtag to develop over time and establish a cohesive campaign
2. Posting without a brand personality or unique voice
Every company is different, and you want your company to stand out. It's important that your social strategy includes developing a unique brand personality. This brand personality will be reflected in various marketing projects, especially across social media.
One big mistake we see is B2B companies sharing posts across social media platforms without a unifying voice. Significant contrast in tone and style throughout your posts hampers brand recognition. Posting with your brand personality will set apart your content and distinguish your company.
Social media offers B2B companies unparalleled opportunities to reach both new and existing audiences, to present who you are as a company. With this very public-facing information on social, standing out in a positive way is vital. Make sure your voice is unique, strong, professional, and (most importantly) tailored to your audience.
3. Not encouraging employee engagement
One of the best sources for organic engagement is often overlooked: your employees. Employee engagement does more than boost numbers (which is great in itself); it shows that your company has thoughtful, active people who care about the brand.
Brands that don't encourage employee engagement are missing out on a number of benefits. For example, when someone likes a company post, that can show up on their connections' timelines, drawing in more eyes and potential followers. B2B companies in particular should consider activating employees on social media because they are the true ambassadors, the heart of the company who actually do the work that moves the dial.
4. Being too "sales-y"
Another common mistake is sharing content or posts that don't present valuable information to the target audience. Often, content is too "sales-y." Overt self-promotion can be dry and offers nothing relevant to the audience.
Consider who your audience is. Generate and share content that speaks specifically to them. Ask yourself, "does this post provide anything of interest to my audience?" If you're sharing an event or webinar for example, make sure to highlight why this matters to your audience – will they get to network with experts, will they learn something new? Use social media to show the audience what they will get out of your services.
5. Not creating unique content and/or copy for unique channels
Unique content is becoming increasingly important as social channels continue to offer distinctive services and interfaces, attracting different users. Your B2B company should decide which channels are most pertinent based on thorough research and consideration. Once the channels are decided, it is essential that you create unique content for each. When posting on multiple accounts, one blunder is reusing the same content.
Different channels should have different posts (small edits to copy, length, and/or rich media). If you do decide to use the same content across channels, you may need to tailor it to each platform. Some examples of such tailoring include resizing images (e.g., for Instagram and LinkedIn), using different hashtags, adjusting lengths to copy, and tagging appropriate user handles on each platform.
The Bottom Line
Social media allows users to engage with each other whenever and wherever they may be. As a B2B company, this means you can reach your target audiences quickly and easily. The downside is that content can get lost in the stream of information on social media. To get the right eyes on your posts, your social media should fit what your audience wants to see: unique voices, trending topics, services that are relevant to them.
Make your B2B's online presence the best it can be with these tips and remember – things are always changing. Follow this space for continued updates.
---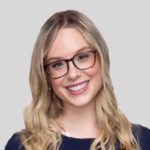 A Senior Account Manager, Digital Strategy at Lumentus, Eden is a digital strategist with expertise in campaign strategy, execution, and analysis. Her responsibilities include social media content development and online expansion of brand or issue awareness and engagement.
All author posts