Supreme Court Justice Kavanaugh Found Out the Hard Way

Almost all corporations own their own URLs. Many control their LinkedIn pages. Even some have registered their names, major brands, and product or service names on Twitter and Facebook. But pity the executive or high profile individual who doesn't. Just ask Supreme Court Justice Brett Kavanaugh.
As the Kavanaugh nomination created headlines around the world amid controversy, there was no biographical information about the justice on his namesake website domain.
Prior to his confirmation, visitors to BrettKavanaugh.com were offered links to resources for survivors of sexual assault.
Kavanaugh, who survived that ordeal and much more turmoil in the court of public opinion, is now seated on the nation's highest court. But prior to his rise to prominence, let alone his nomination, the jurist's team had not obtained ownership of his name's URL. It was acquired and controlled instead by Fix The Court, a judicial reform organization.
And Kavanaugh is not alone. To this day, www.tedcruz.com sends visitors to a full-page ad for his opponent, Beto O'Rourke. Cruz has been a public figure since 1999. House Minority Leader Nancy Pelosi doesn't control www.nancypelosi.com and she's been in politics since decades before the Internet even existed.
We cannot count the number of companies, organizations and executives who become prominent without owning their "namespace." It happens in a variety of different ways. Some gain notoriety through a technological or financial breakthrough. Others are introducing a new product or service, or enter the swirl of a public controversy. No matter the potential scenario, it's simply too risky to ignore.
Whether it's good news or bad, a divorce of a high-profile hedge fund leader or small healthcare company that wins a significant new patent, URLs, Twitter handles and social media profiles must be secured. We also often need to work at lightning speed – and sometimes overnight – to acquire a new client's rights to secure the namespaces and derivations of the names – sometimes both positive and negative.
In this online world, where a touch of a mobile phone instantly delivers infinite pages of search results, make certain what your stakeholders – or would-be clients, recruits, investors – find exactly what you want them to find, and not the opposite.
---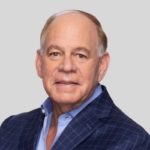 Laurence Moskowitz is managing partner and chief executive of Lumentus. Selected as one of the Top 10 public relations executives of the 20th Century by PR Week magazine, Larry is not only a professional communicator advising corporate and not-for-profit clients, but he founded or co-founded and ran four previous companies, including one he expanded internationally and took public.
All author posts