NEW YORK, May 23, 2017 – Companies and organizations typically rely on their website to shape their public image, but a new survey reveals that the first 10 search results on Google or other search engines present the first impression.
A recent poll conducted by Lumentus, a digital marketing and communications firm, demonstrates that nearly 70 percent of American decision-makers and managers rely on search engine results in making business decisions. Fewer than five percent rely on an organization's website alone.
Corporate websites are trusted by nearly 77 percent of respondents, but online news articles carry even greater credibility, with more than 83 percent trusting the content.
"Companies and organizations that focus solely on their own websites put themselves at risk," said Laurence Moskowitz, chief executive of Lumentus. "Company websites are what executives assume digitally represent their organizations, but search results elsewhere on the web can negate goodwill, damage a reputation and, ultimately, lead to a loss of revenue.  Google is now your front door – not your own website."
The key findings of a poll of nearly 800 adults nationwide earning more than $100,000 per year also found:
More than 90% view Google search results when initiating research on a company, a product or its services

Nearly 50% of respondents prefer to initiate a search on a company, product or service on Google; fewer than 5% prefer to go directly to a corporate website first

Nearly 70% of respondents say they consider online search results as part of their business decision-making processes

More than 80% of respondents report they would avoid a company or individual on the basis of negative search results

Nearly 75% say they have actually rejected doing business with companies as a result of negative entries

75% of respondents say they will search further if they find negative information about a company they are researching

Nearly 90% of respondents will search further if they find positive information about a company they are researching
"A passive approach to your company or organization's digital footprint can actively impact business growth or public perception," said Lumentus Senior Partner Christina Bertinelli, who leads the firm's Digital Reputation Management practice.  "The importance of understanding the full potential and power of search results and taking an active role in managing them is critical to creating a strong image to all stakeholders, current and prospective.  First impressions last."
An infographic featuring all survey questions is available: http://bit.ly/2qPOf2f
The poll's margin of error is +/- 4%.
---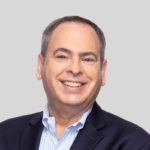 Project Director at Lumentus, has a solid global background as a PR practitioner, a broadcast news consultant and journalist, and has produced innovative conferences for the international news community. A native New Yorker, he spent 15 years based in London and two years in Doha, Qatar.
All author posts