Is creativity in corporate communications a lost cause, or are there still opportunities for brands to be creative and clever in their communications? That was the question that a panel of experts tackled at FCS's recent breakfast event at the New York Yacht Club. The panel, moderated by MerchantCantos Chairman Matt Shepard-Smith, featured a lively discussion on how financial services companies navigate the world of internal and external communications.
Shepard-Smith kicked off the discussion by emphasizing that when it comes to corporate communications, "reputation is everything, and everything is reputation." He explained that content marketing has started to become stale over the past few years and asserts that companies need to reevaluate what they want their employees to think, feel, and do. Content should not be created out of anxiety, it should feel organic and be easy for employees to engage with.
The panel of experts included David Wells of Goldman Sachs, Jenny Varley of HSBC, and Douglas Figueredo of Lazard. A big challenge that each panel member acknowledged was creating an environment where great ideas can thrive. "The more you try to control things, the less control you have," warned Wells. However, while bureaucracy can choke the life out of creativity, there needs to be a disciplined approach to content to ensure that employees are engaging with content in a way that you want them to. It's not easy, but as Wells argued, "if you do internal communications right, it's much easier to get external communications right."
Each panelist agreed that while there are many easy traps to fall into when creating content, there are still many opportunities for companies to push the envelope. "Creativity is not the same thing as art," argued Figueredo, explaining that often the urge to create something the world has never seen before hampers communications teams from using their natural creativity to tell brand stories.
---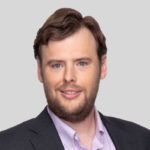 Phil McMahon is an account manager at Lumentus. Phil joined Lumentus during its early days in 2011, bringing his experience as a freelance screenwriter and videographer to help clients build and grow their online assets. As an account manager he now works closely with clients to oversee all phases of project development, provide strategic support, and create dynamic original content. Phil holds a Bachelor of Arts in Film from Vassar College and resides in Brooklyn, NY.
All author posts