Earlier this year, LinkedIn introduced native conversion tracking on its advertising platform. Advertisers rejoiced, as LinkedIn was the last major social media platform without conversion tracking. Finally, advertisers can run a lead generation campaign and generate detailed demographics insights on leads, right? The answer, is yes, but as is usually the case with LinkedIn, that information comes at a premium cost.
LinkedIn places a premium on the privacy of its user information, hence the high costs that come with advertising on the platform. Cost-per-click (CPC) bids are generally 8-10x higher than those on Facebook, but the idea is that advertisers get "better" leads, as LinkedIn has a more "serious" audience.
For many businesses, especially those in financial services industry, the ability to reach and analyze the LinkedIn audience does prove to be worth the extra dollars. And with the addition of conversion tracking, that audience data becomes even more valuable.
Unfortunately, LinkedIn's Campaign Manager dashboard may provide little to no actual data because LinkedIn withholds reporting data until at least 10-15 actions in any given metric occur. Generally this wouldn't be an issue with most metrics, such as clicks, but for conversions, this can become increasingly problematic. For example, a campaign targeted at major U.S. cities won't reveal how many conversions occur in a given city until at least 10-15 conversions happen there.
As advertisers, we all measure and value leads differently. In some cases, as little as 5-10 leads can make or break a campaign. At Lumentus, we recently ran a global campaign for one of our clients, targeted at more than 50 major cities around world, meaning we would need at least 500 conversions to receive complete location demographics for our converting audience. Start to multiply that against cost per conversions, and it's easy to see the issue.
There are, and always will be workarounds, but if you're hoping LinkedIn conversion tracking will be a one-stop shop for all your reporting needs, be prepared to open your wallet. Small and mid-size businesses will have to be especially creative when it comes to targeting and managing campaigns.
If you would like advice on planning and optimizing your social media advertising efforts, please feel free to reach out to us at contact@lumentussocial.com.
---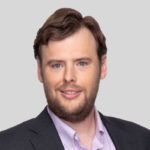 Phil McMahon is an account manager at Lumentus. Phil joined Lumentus during its early days in 2011, bringing his experience as a freelance screenwriter and videographer to help clients build and grow their online assets. As an account manager he now works closely with clients to oversee all phases of project development, provide strategic support, and create dynamic original content. Phil holds a Bachelor of Arts in Film from Vassar College and resides in Brooklyn, NY.
All author posts