NEW YORK, Sept. 14, 2016 — Seasoned digital and social media marketing strategy expert Bryan Bridges has joined Lumentus as Director of Digital Strategy. In his new role, Bridges will develop integrated digital-first communications strategies and digital reputation management programs for the firm's clients, with an emphasis on financial and professional services as well as corporate and association clients.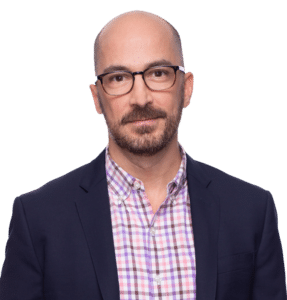 Bridges brings more than 20 years of experience leveraging digital media and technology to drive marketing and communications activities across a range of industries.
"Bryan's digital expertise, coupled with his experience with traditional strategic communications and public relations, is a powerful combination," said Laurence Moskowitz, managing partner and chief executive. "He brings the well-rounded perspective and forward-thinking vision to bring true value to clients seeking to connect with their audiences and manage their reputations."
"I'm excited to join Lumentus," Bridges said. "Digital reputation management requires a deep understanding of how to optimize digital marketing and social media efforts in close coordination with earned media and paid advertising," said Bridges. "As a previous Lumentus client, I've seen first-hand how the firm's talented technology and creative teams work together to drive real and lasting results for clients, and I look forward to working with them as a colleague."
Bridges will work with Lumentus clients, including hedge funds, private equity firms, asset management firms, corporations and associations to promote and protect their digital reputations and market their brands.  Lumentus's digital reputation practice is best known for developing content strategies that create market differentiation, improve investor and public perception, as well as protect against digital attacks, reputational crises, and online fraud.
Bridges joins Lumentus from Burson-Marsteller, where he was a senior director leading social media strategy for the Bank of America Merrill Lynch account. He had previously been in-house in digital marketing roles at financial services firms such as KKR, Morgan Stanley, Bear Stearns, and DLJ. He also has agency-side experience at Brunswick Group and Wieden+Kennedy leading digital engagements for a range of clients, including financial and professional services, pharmaceutical, energy, transportation, non-profit, and consumer packaged goods. He holds a B.A. with honors in Comparative Literature from Columbia University and an M.A. from Rutgers University.
Bridges is based at Lumentus headquarters in midtown New York and will report to partner Christina Bertinelli, who leads the Lumentus digital reputation management practice.
For more information on the firm's capabilities and case histories, visit www.lumentus.com. Connect with Lumentus on Facebook, Twitter and LinkedIn.